Top 5 places with fascinating ambience in Bangalore
Bangalore is a city full of beautiful places to hangout and has a reputation for having the best cafes and pubs in town. One of the main things that make Bangalore stand out is the amazing ambience of these places. This makes choosing one café for enjoying a quaint evening or a pub to leave out all the stress behind after a long week a task. Top 5 places with fascinating ambience in Bangalore is going to make your visit to Bangalore great! That's why with Deepam Taxi's advance booking services, hopping from one place to another is not a problem at all.
With this list of these 5 places with fascinating ambience in Bangalore, you will not have to worry much as these will guarantee you the best ambience. The décor to the music, everything in these cafes and pub ooze of a great evening, day or night. If you and your friends want to chill over a few pints of beer and spill the tea then we have got an option for you. But if you want go on a romantic date with Bae, then also we have got a classy option for you!
If you have planned to cover all these fun and friendly places in a jiffy or maybe two at a time, worry no more as you can hop around safely and securely with Deepam Taxi throughout town. Bangalore offers a lot of great places to visit and these cafes are a must visit for a quick lunch break from town trotting or after a tiring day of shopping, so wait no more and book in advance!
Visit these top 5 places with fascinating ambience in Bangalore right now!
1) Enerjuvate Studio & Café
Just like the name suggests, Enerjuvate Studio and Café truly is an example of energy and rejuvenation! This café is so lit that you will be vibing in no time with our buddies and forgetting about all the day to day stress. The bonus is the décor and the ambience of this place which makes it the perfect place for an evening with your buddies and also a date night special. The café has something about it, be it its lively and colourful décor or its variety of refreshing drinks and beverages that just refreshes your mind. Also, its another top choice for vegans, health freaks and vegetarians.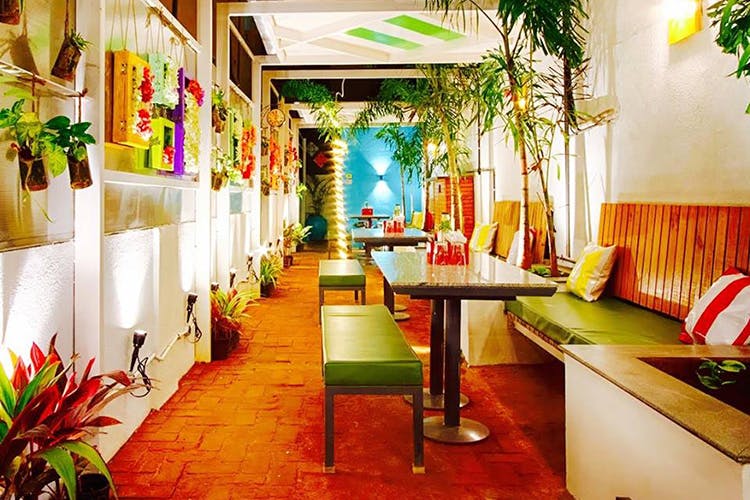 2) Little Green Café
If you are a fan of aesthetics and believe in the old charm, then café little Green is your place to be. This café as its name suggests is set in a green backdrop and once you sit here, you will be transported to a magical world. The ambience of the café is so vibrant yet delicate, you will find people of all ages engaged in beautiful conversations and chugging the awesome food. If you like a quiet yet cheerful café which not only looks good on your Instagram feed but is also enjoyable in real life, then this is your perfect choice.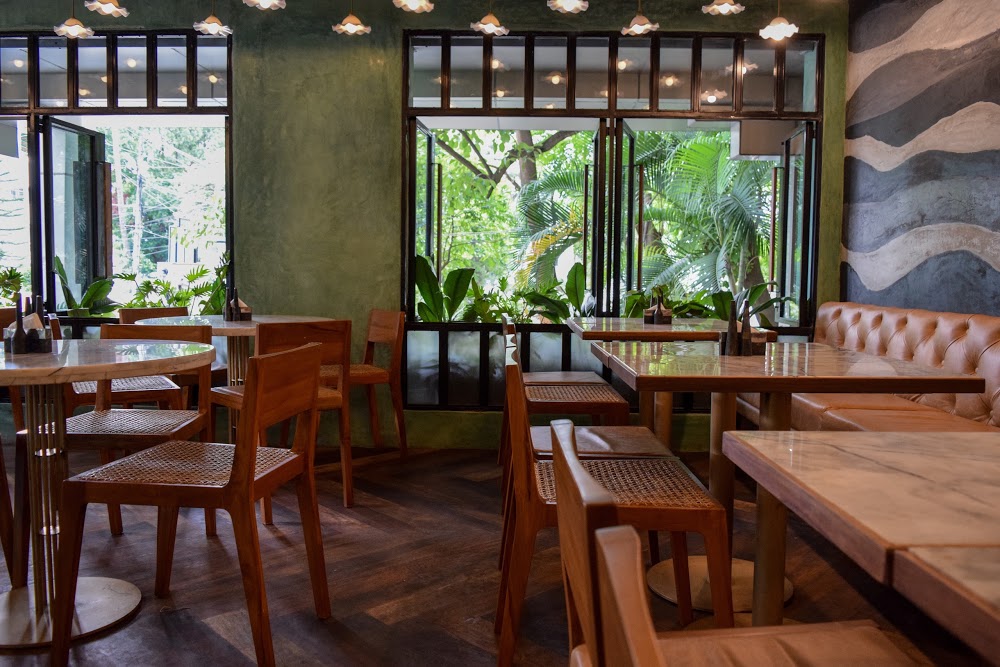 3) Bistro Claytopia
This Bistro is one of the most vibrant and fun places in town because of its ambience. The place oozes of good vibes and chill atmosphere with young people smiling ear to ear to be seen everywhere. The place not only offers a great ambience but a great variety of food options as well. If you want to sip on some good beer, munch on some mouth-watering food, tap your feet to some amazing indie music while you talk about life with your best buds, this bistro in town is a must visit place for you! Now, amidst the pandemic if security and safety has become a concern for you then worry no more and book a cab with Deepam Taxi to explore this beautiful place asap!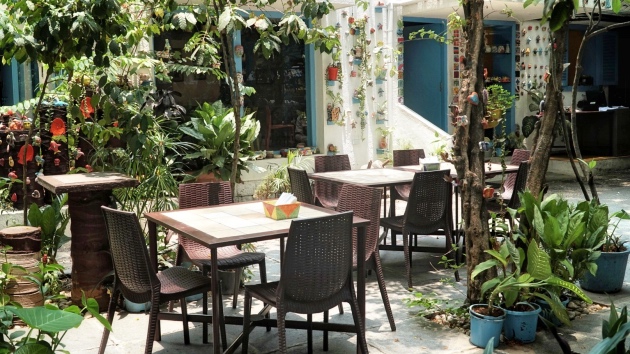 4) Just Be Café
Being a vegetarian is a rewarding choice but nonetheless tough when it comes to choosing a place to hangout with good food. But fret no more when you can visit the best vegetarian café in town safely and securely with Deepam Taxi! Just Be Café truly lets you be your best self and explore their variety of vegetarian delicacies. Find yourself a place in the open or inside, every corner you choose will light up your mood. The café has the ultimate seating areas for you where you can comfortably lean back according to your likes and enjoy the ambience!
5) Café Pink Pajamas
Perfect for a day out with the girls, café Pink Pajamas has the best Italian cuisine in town! The café is set in the backdrop of white, pink and grey making it the perfect place to post for your Instagram feed. The food is delicious and most importantly the couches are too comfortable to sit and spill some sass. So, wait no more and put on your best summer dress to hang out with the girls or bae at Café Pink Pajamas and click some enviable photos!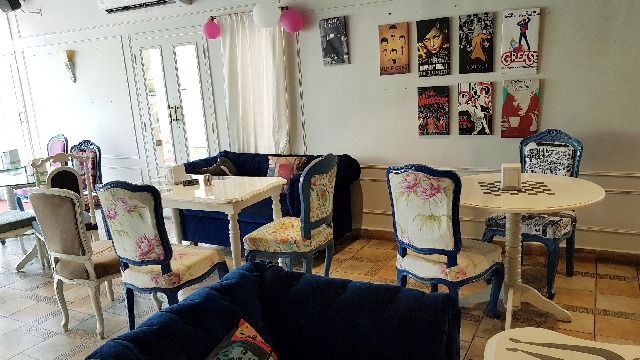 These were the top 5 places with fascinating ambience in Bangalore that will take away all your stress and worries! While you sip on some refreshing beverages and munch on some amazing cuisine with the best of your friends or your new date! Some of the places in this list are also a great deal to visit your family and even grandparents because the ambience is a rock-solid option for people of all ages and all preferences. Now if you are stuck thinking about how safe it would be to travel to these amazing places amidst the pandemic, then leave that worry on us and book now with Deepam Taxi for the safest ride!