Top 5 things to do in South India
South India has an extravagant list of things to offer any tourist that is coming from India itself or abroad. The southern part of the Indian peninsula is located by the Western and Eastern Ghats and marks the end of the Indian subcontinent at Rameshwaram. With so many places in South India to visit, this part of the country not only is rich with natural wonders but has plenty of cultural and heritage oriented beauty too. You would want to devour all the experience it offers. South India offers a peek into how India was once a golden bird with the extremely well designed monuments that are present here spread over acres of land.
South India offers one of the most mouth watering ranges of cuisines too. You have four states to explore that have come together to make the Southern part of India and each state has distinct taste affiliated to it. If you love food then from the internationally famous Hyderabadi Biriyani to the 99 varieties of Dosa, you would be spoilt for choices. You can even indulge in rejuvenation of your soul and treat many old ailments with the ancient treatment of Ayurveda. If you are an adventurous soul, South India has many options to take you on a thrilling ride too. Deepam Taxi's trained chauffeurs know the best routes and the best places to stop at for you to devour in South India's excellent cuisine.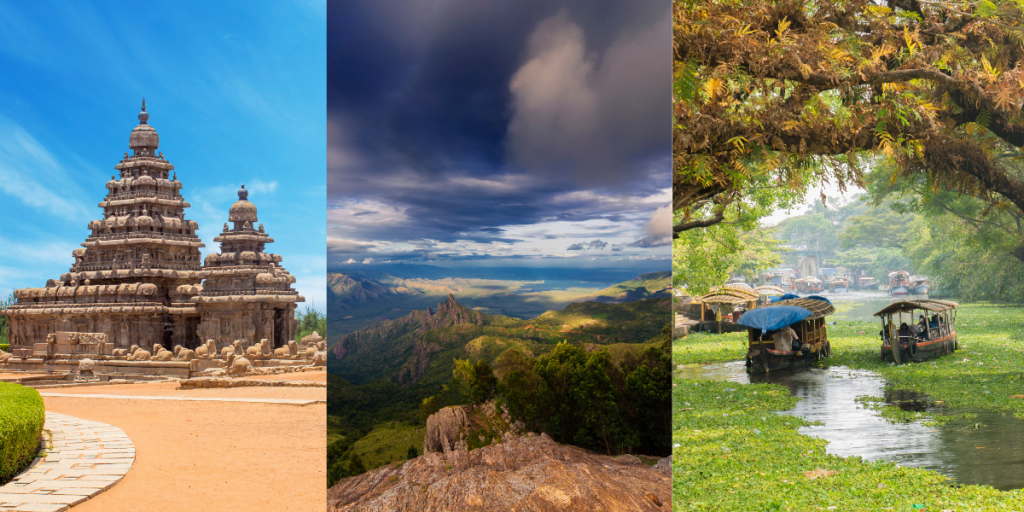 Here are the top 5 things that you just can't miss on your South India tour!
1. The untouched and serene landscapes of South India
You must have watched a hundred movies where a toy train runs through the greenest landscapes and it might have occurred to you that it is a scene out of India. But no, it was most probably Ooty, the Queen of Hills. South India has so much natural beauty to offer which is very much different from that of North India. If you want a complete experience of what all nature has to offer then this is your place. The green tea and coffee estates in Munnar to the once in 12 years bloom of the Nilgiri flower. 
From the magnificent Athirapilly falls, the Niagara Falls of India in Monsoon is one of the wonders to bewilder your eyes, while you can also relax on the serene hidden beaches of Gokarna. If you an avid fan of natural colours that surround us, then you could fall short of days to take enough of South India.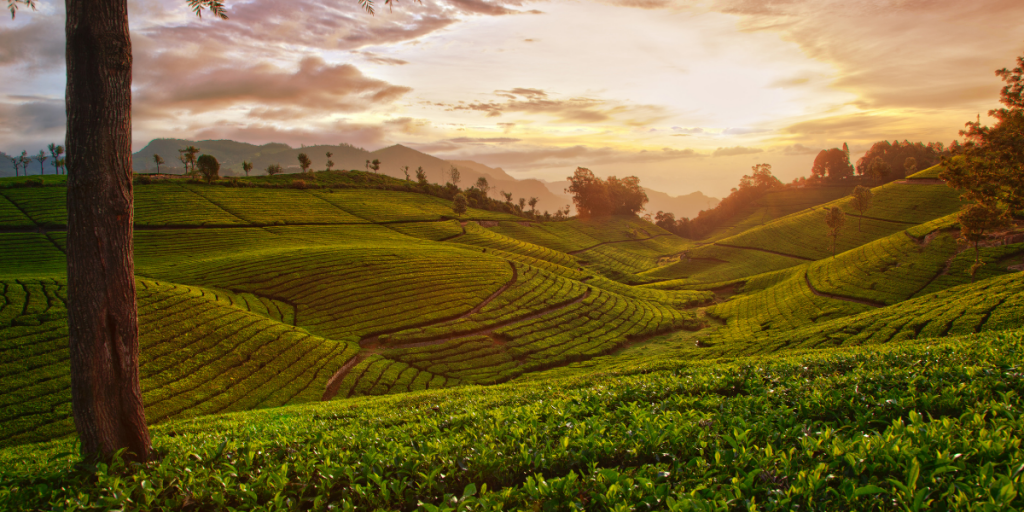 There are plateaus to beaches to hills that are all shades of green, blue and pink, be it during the sunset/sunrise or at night. Monsoon in South India is also famous for making the landscapes lush green and to make the innumerous waterfalls come to life. If you want a trip that truly feels complete with a blend of culture, natural beauty and cuisine, then the Southern part of the Indian peninsula comprising of 4 states would be your best bet.
2. The enchanting wildlife of South India
The wildlife safaris in South India are one of those hidden gems that not many tourists visiting India or within India knows about. These are those serene and untouched, untamed parts of the jungles where the animals are left to live freely and we are the ones intruding their habitat. As just as we enter their premises and sight them in their most natural and wild form, we must respect their space and be just spectators. If you have only visited the North and Central India's wildlife then you are in for a pleasant surprise. 
The wildlife sanctuaries in central and north India are so popular that the tourists have crowded the natural habitats of their wild animals. But here, in South India, it's a pristine experience to be one amongst the wildness. There are a number of options to explore and sight an elephant or a spotted deer. You can even stay at the most luxurious and homely stays amongst the wilderness and spot a relaxed tiger drinking from a lake right from your window.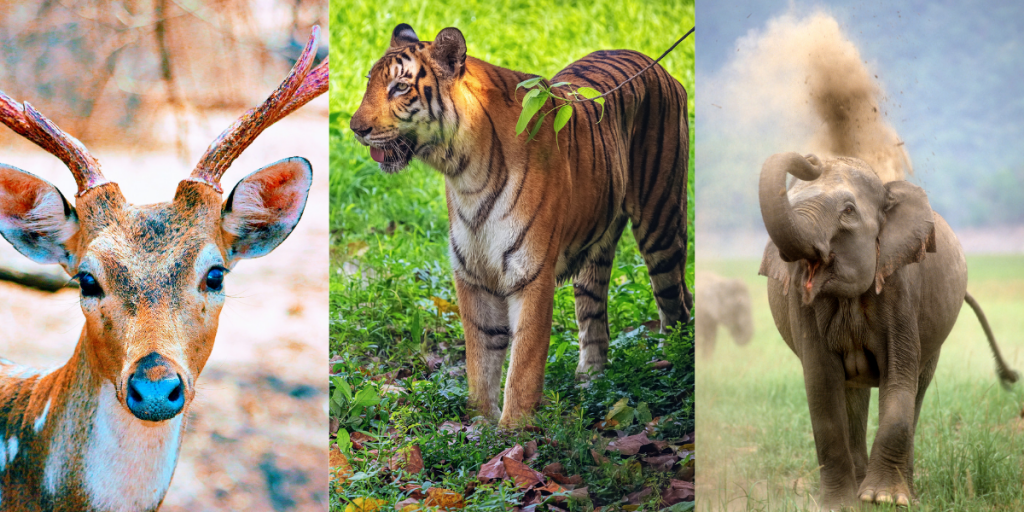 The South Indian National parks are just not for beautiful animals but also the rarest species of birds. The dancing peacocks in Monsoon which is a sight for the fortunate ones to wild elephants taking a walk around the forest with their little ones. South Indian national park and wildlife sanctuary are protected to be untamed and uncivilized because that's how it's supposed to be. But it should not deprive you from staying with luxury. The Kabini resorts to the Bandipur National Park may be your choice if you want to soak in some sun on winter days. But Nagarhole and Periyar might be your place to be if you want to experience untamed wilderness and elephants strolling your way.
3. The mystique golden beaches of South India
When we think of the golden sand beaches of India, Goa is the first place to come to the mind but South India has more serene and untouched options. Beaches in South India are cleaner and less crowded than those of Goa because these beaches have been hidden from the eye of tourists which will let you relax with a peace of mind. Located on either the Indian Ocean or the Arabian Sea, the clear blue waters against the white and golden sand beaches will feel like a dream to you. Therefore, it is one of the natural wonders which are toppled by the mad made beauty of luxurious stays. 
If you want to indulge in healthy activities and make your body cleanse itself through yoga at the beach, then Gokarna, Kerala and Pondicherry's beaches would feel like home to you.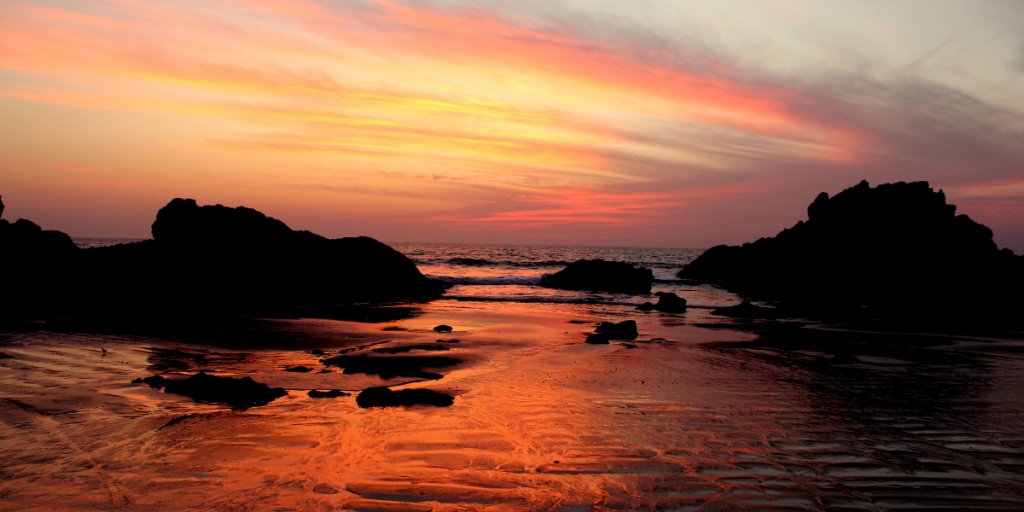 Amongst many famous beaches in Karnataka and Kerala are Gokarna in Karnataka and Varkala in Kerala which are known for their pristine blue waters and white sand beaches. There are so many hidden gems in Gokarna such as the Half Moon Beach and the Om Beach. If you are an adventurous soul then hiking from Om Beach to Half Moon Beach will be a mild adventure for you! The famous paradise beach of Pondicherry besides the French colony and the yoga hub Auroville is rejuvenating and yet relaxing experience to have. 
This makes the beaches in South India not only beautiful but also multipurpose. You can visit the beaches for a relaxing sunset if you want or you can take a yoga learning course around it for a week to activate your chakras. South India has an option for everyone.
4. Experiencing the rich heritage and culture of South India
South India has the absolutely rich culture and the blend of Indian history. The Dravidian architecture of temples can be seen in the monuments spread across Tamil Nadu and Karnataka. The beautifully lit Mysore Palace on Sunday evenings to the UNESCO world heritage site of Hampi, there is more than plenty to explore. If you are a history buff then the buildings and monuments of South India predating history will not disappoint you.
In Kerala there are oldest of natural buildings with the ruins that signal that civilization has touched these grounds even before we know of it. At the same time starting right from Karnataka and going right down to Rameshwaram, there are temples which signify the designs and architecture of Indian culture.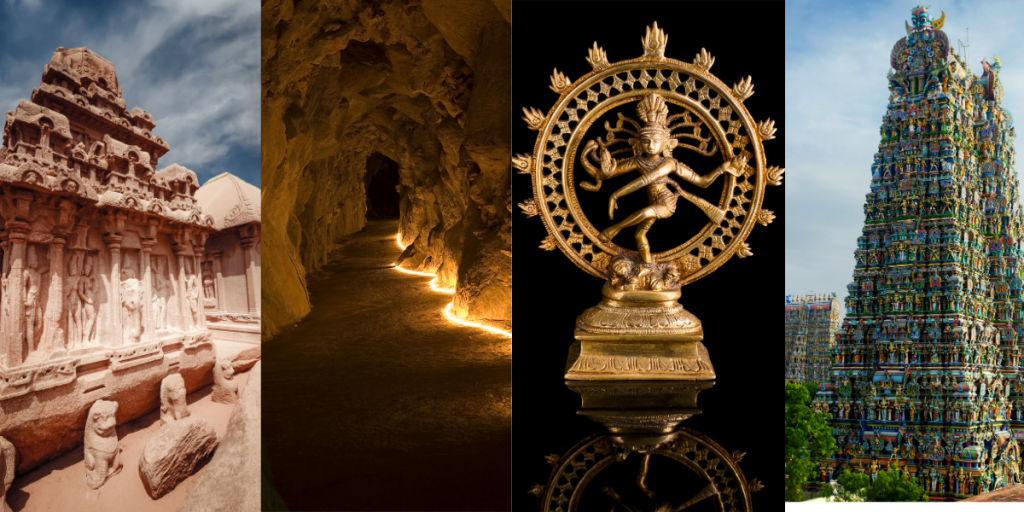 The rulers of Vijayanagar were Chalukya Dynasty who was extremely keen on design and architecture. They emphasized on education, design and architecture which led them to construct the beautiful city of Vijayanagar now known as Hampi. This place is in ruins now after centuries of invasion and corrosion but has not dimmed the light of the place and has been credited as one of the UNESCO world heritage site. If you would like to enjoy the local cuisine then this place shall be on your list for the spicy and juicy local cuisine.
The other beautiful places to witness art and architecture are the temples of South India and their elaborate festivals such as the mesmerizing Meenakshi temple and the 12 day long Chithirai festival. The festival is celebrated in April, like a real wedding and is not one to be missed.
5. Experience the lifestyle on water on a houseboat in Kerala
The backwaters of Kerala have caught the eyes of many people due to their beauty and the essence of adventure. The most amazing part about the same is that it lets you relax on the water as you travel across Kerala and enjoy its godly beauty. Known as the lands of Gods, Kerala truly has something about it that you cannot help but notice is heavenly. The houseboat experience stands out from the beach and other experiences because the backwaters are spread across Allepey and Kochi which is an experience in itself for you.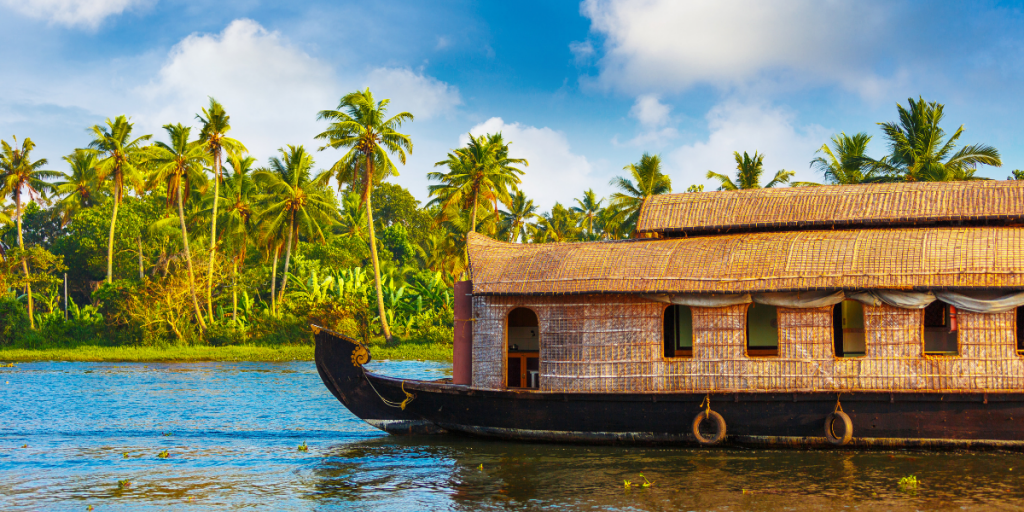 Kerala has a reserve of fresh water lakes and blue lagoons stretching as far as you can see, now imagine living on a houseboat on the same. Waking up to sunrises on the water will not only captivate you but will make you ask for more bliss in the beautiful landscapes of Kerala. There are many activities to do on a houseboat such as fishing during the noon and climbing on an wooden boat with a trained oarsman to explore the small channels besides the small settlements on the side of the water. You can even go and experience the local culture while you enroll for an Ayurveda treatment at one of the spots in Kerala.
Experience South like never before!
The top 5 places in South India are only a glimpse of the beauty that this serene land holds. If you want to explore the best of South India you may fall short of time and thus it is important for you to consider this list. The southern part of the Indian peninsula is so vast that it will spoil you for options and hence, you might want to take the best experience out of it back home. If you want to explore this heavenly land in peace and smoothly, then Deepam Taxi assures you the best service in town. Now, with a trained chauffeur and lush green roads you would not even want to go back ever!