6 things you must do in Ooty
Ooty is that one destination which has been on the travel wish list of every Indian and why not? You and I, we have all grown up watching Bollywood movies being shot in Ooty. This natural wonderland looks like a scene from a classic Charles Dickens book. Tucked carefully in the Southern state of Tamil Nadu, Ooty receives an annual footfall of 32.69 lakh as of 2017. But apart from the intense urge to visit Ooty, did you know the top 6 things you must do in Ooty?
Ooty has ample of lakes and is also known as the land of lakes. Most lakes in Ooty were created by landslides and the most famous one is Avalanche Lake, a beautiful Clearwater lake surrounded by lush green meadows. Currently, given the uncertain times, many people are choosing Ooty as their workcation destination. You know, working on a vacation?
Read ahead to find out the unmissable charm of Ooty.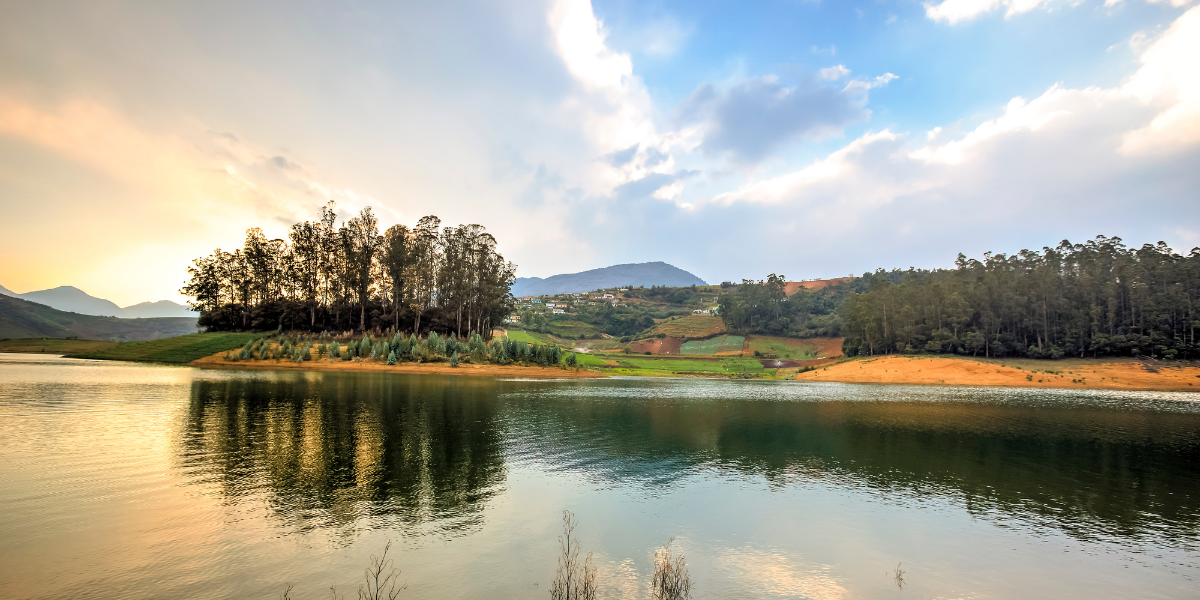 So when people are choosing to move to Ooty for work, what is holding you back from visiting Ooty? Try out these 6 things you must do in Ooty to make it one of your most favourite tourist destinations. Also, these can be covered in about a long weekend and if you are travelling from Bangalore, Deepam Taxi will assure you the smoothest trip ever!
1. Relive your Bollywood dream in the Pine Forest
We have all watched and dreamed of that Bollywood scenes where the actress would be swooning over the beautiful Pine trees in the Pine Forests of Ooty. How we wished if you could take a walk down those misty, thick dark forests too. The Pine Forest in Ooty looked beautiful even in the horror movies due to the fog and the mesmerizing play of light and shadow. It's a dream of every India to at least a hug a Pine tree in Ooty and clicks a picture. This might one of the major reasons for travelling to Ooty for some people. Because the aura in this forest is just so magical, it's irresistible. There are rare species of Pine trees in these forests such as the Siberian Dwarf, Ponderosa and Potosi Pinyon.
The Pine Forests are also a natural reserve of oxygen and greenery that makes Ooty's climate so soothing. The natural aroma of Pine Trees make Ooty's air smells woody and fresh. If you are wondering which time of the year would be the best to travel to Ooty, then I must tell you that Ooty is great for all seasons. But spring, summer, monsoon and autumn might be nature's favourite. Avoiding winter would be a good idea if you are scared of the cold but Ooty does get very cold during the winters.
2. Go boating in Ooty's famous Pykara Lake
If you are lover of nature in its true colours then Pykara Lake in Ooty is going to be your favourite. Ooty has ample of lakes and all of them come with a beauty of their own. But Pykara Lake has been famous since a long time amongst tourist. This is because of all the adventure feels it gives you. Pykara Lake is the hotspot for boating and hence, it makes it the right place for you to speedboat in the emerald green waters. The lake is crystal clear and the water level is pretty low. The Lake is surrounded by little green hills on all sides and the way to the lake is lush green grounds.
The view in itself is soul reviving, but choosing the speed boat option is going to be a good idea for you if want a bit of adrenaline rush. But if you want to visit some other lakes and enjoy the serenity of Ooty, then Avalanche Lake, Ooty Lake and Emerald Lake are also good options. Pykara Lake is not only famous for the lake but also the waterfall. The Pykara Waterfall is not that big but it is beautiful and the natural spring makes you want to dip your knees in the water and the let the water wash all your stress away.
3. Witness what heaven looks like at the 6th and 9th Mile shooting spot
We have all watched a few Bollywood movies and a number of South Indian movies features this infinite lush green meadow surrounded by forests. Just like me if you were also struck wondering where this place is, then let me tell you it was not any foreign destinations and definitely not Scotland. It was our very own shooting spots in Ooty known as the 6th and 9th mile because they are exactly spread over 6 and 9 miles. If this fact itself isn't driving enough for you to visit the site right now, then you should definitely watch the movies.
The 6th and 9th mile shooting spots are actually natural lands covered with the local flora and fauna and in the seasons of spring and monsoon, the greenery turns greener. This is also a photography hotspot because of the vibrant color spectrum in the area. The clear blue skies meeting the greenest grounds and forests at the horizon is one of the most beautiful views to watch.
4. Smell fresh tea leaves in at a Tea Estate
South India is famous for their tea estates be it Kerala, Karnataka or Tamil Nadu. But the beauty of the Tea estates can only be experienced when you climb down the hill and smell the fresh tea leaves. Ooty government Tea Estate is spread across miles and plants hundreds of varieties of teas. You can even live the local experience by interacting with the tea estate workers and ask them about the various flavours of exotic and authentic Tea Trees present there. In the Ooty Government Tea Estate, there are so many exotic varieties of Tea such as jasmine.
In the Nilgiri Mountains Tea Estate both kinds of tea trees are available, CTC and orthodox varieties. You can also heighten the joy of your experience by helping the local tea estate workers out. This will help you enjoy the tea you make after your hard work and with a lot of newly gathered knowledge. You can visit the Dodabetta Tea Factory and experience the history of Ooty's tea estates in the Dodabetta Tea Museum.
5. Experience magic in a toy train
Now another filmy thing that we have watched in a number of movies is the internationally famous Nilgiri Mountains Toy train. The toy traintakes you on a titillating and tranquilizing journey across the Nilgiri hills. Imagine running through this magical carriage across vast greenery as far as your eyes can see. The Nilgiri mountains toy train is also the only toy train that operates daily in South India and this is exactly why you should plan your weekend trip to Ooty immediately. The toy train was crafted during  the British Rule and the essence of the British Monarch can still be felt in the way the train operates.
It is a 45.88 km long journey that starts from Mettupalaiyam to Ooty and covers the most beautiful hill ranges in South India. You will love the bridge that covers the green hills and has been shot in many movies in Bollywood is also covered in this train journey. The train travels through various tunnels and in between hills that will mesmerize your sight. There are beautiful blooms in the Nilgiri Valley which when you once see will become a memory of a lifetime.
6. Climb atop Doddabetta View Point to get a magical glimpse of Ooty
Doddabetta View Point is the highest peak in Nilgiri hills and also the highest mountain top in South India. The view from this place is breath taking and be prepared to be swoon away by the sight of Ooty from this height. As this popular spot is already a favourite amongst tourists, many people from across the country travel to Ooty. If you are one of them and you are landing at Bengaluru airport, the best airport taxi as well as outstation rental taxi that can take you to Ooty is Deepam Taxi. Now imagine comfort and security at its best as you travel through the most beautiful roadways of South India. Doddabetta is the highest mountain in the Nilgiri Mountains at 2,637 metres (8,652 feet).
The name derived from two Kannada words, Dodda means Big and betta means Hill, making it Doddabetta. There is a reserved forest area around the peak. It is 9 km from Ooty, on the Ooty-Kotagiri Road in the Nilgiris District of Tamil Nadu, India. The site is a popular tourist attraction with road access to the summit. It is the fourth highest peak in South India next to Anamudi, Mannamalai and Meesapulimala. Visitors get a bird's eye view of Ooty from the peak. They can enjoy the best views peeping through the telescopes in the Telescope House. Tamil Nadu Tourism Development Corporation maintains and runs an observatory platform since 18 June 1983 for the travellers to gaze over the ideal town of Ooty. There are two telescopes in the glass paned telescope house.
Its time to explore Ooty like never before!
A road trip from Bangalore to Ooty should be on the list of every avid traveler. But road trips can be expensive and tiring right? What if we tell you that the beautiful Western Ghats offer the best roads to go tripping with your loved ones and it is not even expensive if you choose the right services. Deepam Taxi is known to provide the best service when it comes to affordability and comfort. Ooty is one of the most famous Hill Stations in India and the roads that lead to Ooty cannot be missed for their amazing beauty. Thus, Deepam Taxi assures you to take a trip that will be etched in your favourite memories forever.