5 Colourful Parties in Bangalore This Holi 2021
Holi is a festival that holds a lot of value in our culture and thus, celebrating Holi is one of the most amazing times of the year. Holi is also known as the festival of colours but it is not limited to just colour but all the fun associated with friends and family. This festival has been celebrated in India as an important religious even starting with Holika Dahen, Choti Holi and ending with Holi. Holika dehen is all about bonfire fun and snacking with friends and family and Choti Holi is about the household worshipping of Vishnu and Krishna and ultimately on the day of Holi, people play with colours.
Bangalore being one of the most culturally mixed cities, Holi is festival that many will come together to celebrate. In and around Bangalore there are a number of parties happening on Holi 2021 that you can't just miss. The season of spring anyway sprouts positivity and light everywhere and in India. We like to spice it up by adding colours. To make your Holi even more fun in Bangalore you have to hit one of these parties with your best buds and cherish the memories you make for the whole year! Worried about travelling to these places during Holi? Worry no more because Deepam Taxi will ensure you have safe ride to and fro!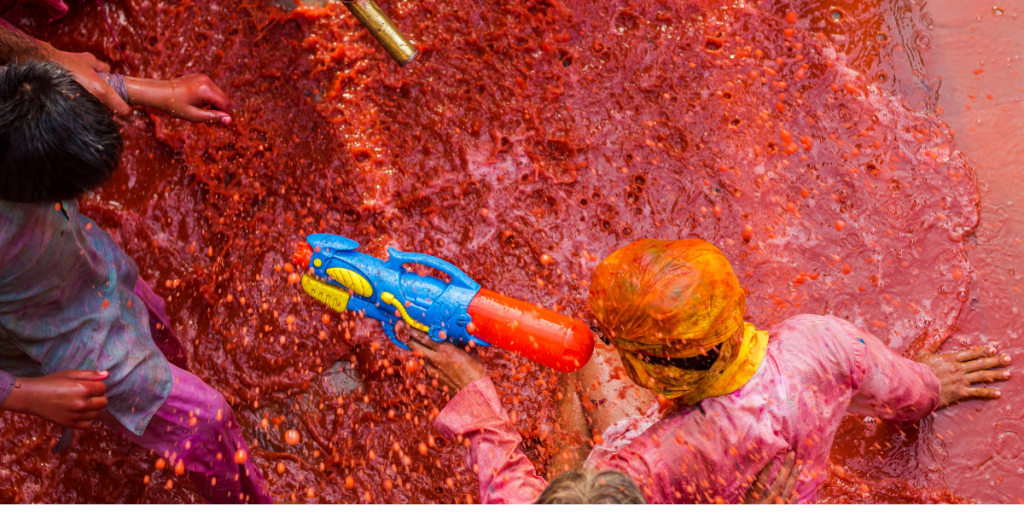 1. Holi Ke Peeche Kya Hai at Mangala Kalyana Mantapa
This Bollywood themed part is one of the best in Bangalore where you can get as filmy as you want. Bring out your inner Bollywood star and put on your retro glasses to tap your feet to real dhol music. Not only that this party lets you get on with Punjabi to retro music, jazz and hip hop as well as techno music. So it does not matter what is your personal style you have 7 hours of non-stop music playing. The most amazing DJs to bring out your dancing superstar. Thinking if the Holi party is just going to be dry? 
Then embrace yourself for the rain dance and dhol performers playing tunes that get you grooving in the rain. There are going to be unlimited organic colours to paint your friends and yourself in every way you want. 
Too much dancing can lead you to become hungry right? Because the party is so amazing that you can't stop yourself from tapping your feet at all times, but they have a plethora of food and drinks stall to make sure you stay fed and hydrated amongst all the fun at this totally filmy Bollywood Holi party in Bangalore. Still thinking about how will you reach the venue where all the fun for Holi is waiting? Deepam Taxi is here to take away all that stress and worry and drop you at this fun filled spot.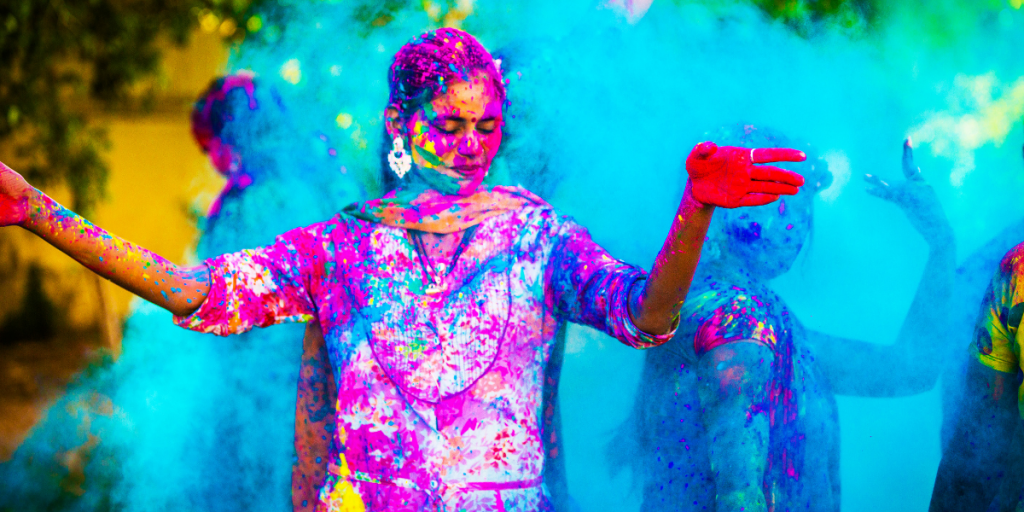 Now you are wondering that grooving to Bollywood and Punjabi might get mundane after a while then your next stop should be HOLIKA Zombie Holi Festival. If the name doesn't already sound exciting and adventurous then you have to read ahead to find out how much fun zombies can have on Holi in Bangalore!
2. HOLIKA Zombie Holi Festival 2021 at TAG – The Adventure Grove
As you can already can guess by the name, this is going to be an out of the box themed Holi Party. It is nothing like the other parties in Bangalore because it's full of surprises and adventures which are so spooky that it will make you stand on your toes this Holi. The party not only spooks you out but also indulges you in trance music and many other forms. This will excite your senses so well that you feel at the top of the world at this party because the organizers make sure you do. 
The party is themed on the crazy concept of zombies which lets you be crazy as well where you can let yourself lose. Groove to the music and except spooky surprises coming your way. The dance and music of every Holi party is the life of it but so it is food and drinks and Holika Zombie Holi Festival is a showstopper in this arena in Bangalore.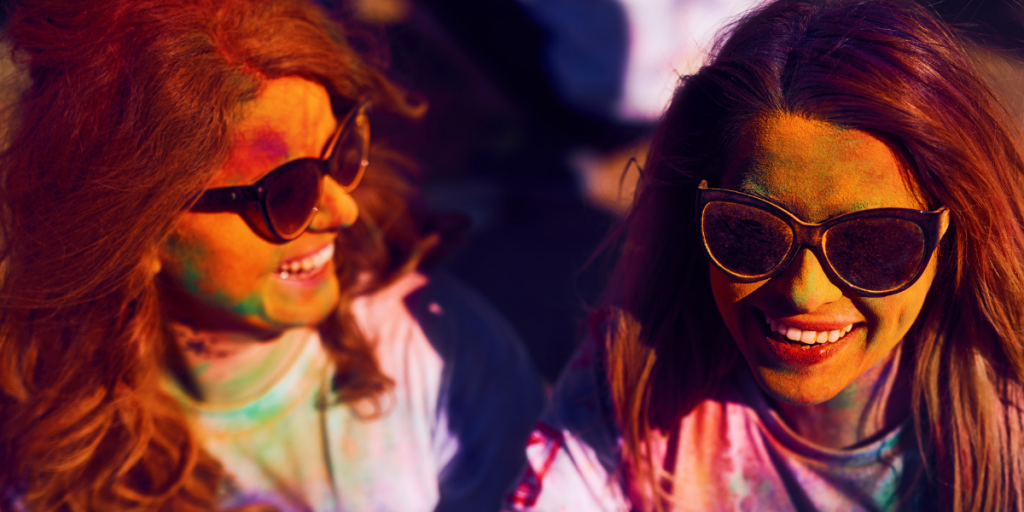 If grooving to spooky themes is not your thing this Holi then you can enjoy the lavish Holi party hosted by the best in town which is Zone By The Park Holi Party. Even if you want to start your Holi celebrations with the spooky themes and surprises at the Zombie themed party, you can switch later to a more luxurious and version at the Zone. Read ahead to find out how Zone By The Park's Holi Party has taken the town by storm in past.
3. Holi Party at Zone  By The Park
The Park is a brand which has always been associated with luxury and class and it shows in their Holi celebration. If you are the kind that loves the feel of comfort and luxury even while partying in a crazy way on Holi, then Zone By The Park will not disappoint you in any manner. The group of hotels has hosted the best Holi celebration parties in the past and they look forward to outdo themselves every year. After the pandemic you and I, all of us are excited to let loose on Holi and party till sundown but we are also a little cautious about the yet not fully resolved conflict of the pandemic. 
Hence, this reputed brand will make sure that no matter how hard we party or how well we enjoy ourselves while grooving to music and splashing colours all around, our safety is intact. They are giving us the ambience we crave for with a 40 by 40 feet rain dance stage and also the best DJs in town. The live food as well as over the counter drinks supply will keep you energetic as you indulge in the craziest and luxurious Holi party this year.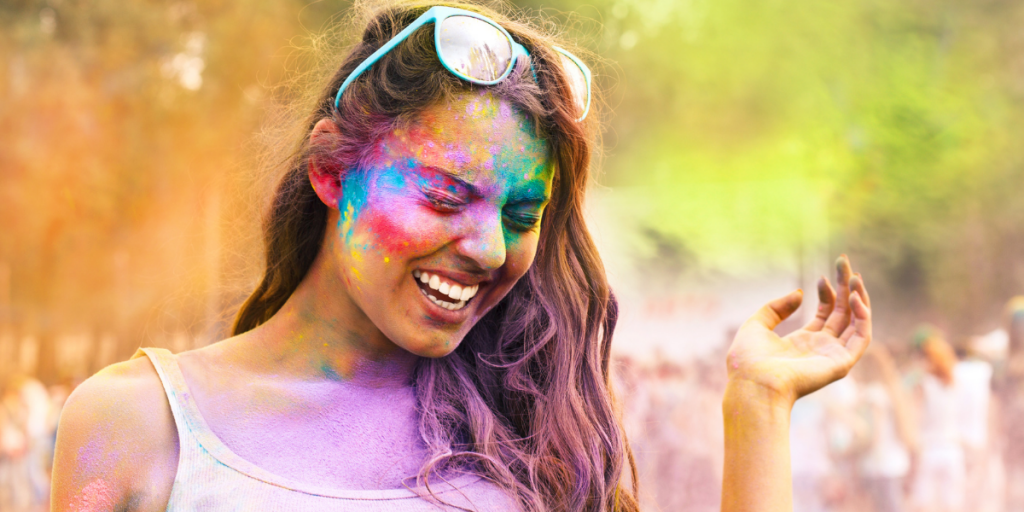 If you are think Holi is all about crazy and fun parties and you need a touch of culture then do not fret because the next Holi celebration is all about peace and culture of this festival. Rang Rasiya is the kind of party you want to drop in when you just want to enjoy the bliss of Holi. Smear gulaal (dry organic colours) all over the sky then this is the place you need to be at.
4. Rang Rasiya at The Park. I Bar
This Holi Party at The Park is a fusion of everything cool, be it the music or food or their rain dance. Rang Rasiya (Holi Hai) will let you free yourself from all the stress and traumatic events of your daily life. Let you sway with the colours and music. The food at the festival is mouth watering and their wide ranges of delicacies available will you struggling between dance and food. The most amazing part of Rang Rasiya is that it will let you find your kind of fun in a party that hosts and celebrates all types of Holi vibes. 
If you want to just smear gulaal on your friends and tap your feet to the music while you munch on their delicious food, this party is your place. But if you want to go into full on party mode and cherish every beat that the DJ plays when dancing in the rain, even then Rang Rasiya is your party to be in! Made up your mind that no matter what, this Holi you cannot miss the chance to indulge in the colours of Rang Rasiya. If you want to colour this Holi with love and spend it away from the crowd of the city then click here to read about the best places you can visit with your love around Bangalore.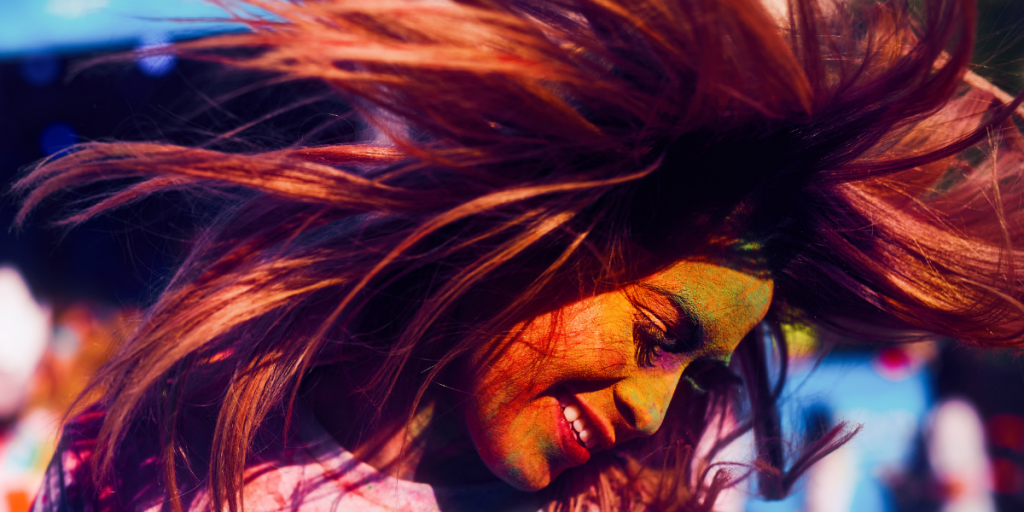 But does thinking about Holi without water make you think twice? Then there's a party in Bangalore that will drive all you people crazy who love to keep their Holi more on the calmer and cultural front! Aqua Holi is the party for you to be in if you want to splash water all over your friends mixed with colours and celebrate Holi like you used to as a kid.
5. Aqua Holi at Cowboy Resort
Holi celebrations are always assumed to be messy and crazy but for all you people who do not want to get messy during the Holi party then Aqua Holi is your place to be. This Holi part at the Cowboy Resort is party full of colours, food and drinks, music and most importantly cultural events. This party is for everyone who wants to dig deeper into the cultural aspect of Holi without it getting all messy and crazy. 
There are beautiful options to stay in the AC camps and non AC camps too. There are music performances as well as Campfire at the Venue too. Now it sounds like a great weekend to enjoy at the Cowboy Resorts and the essence of Holi makes it all the more fun. Campfires and always fun but Holika Dahan is an emotion and we Indians like to indulge emotions into everything and if you relate then this is your party to be in this Holi.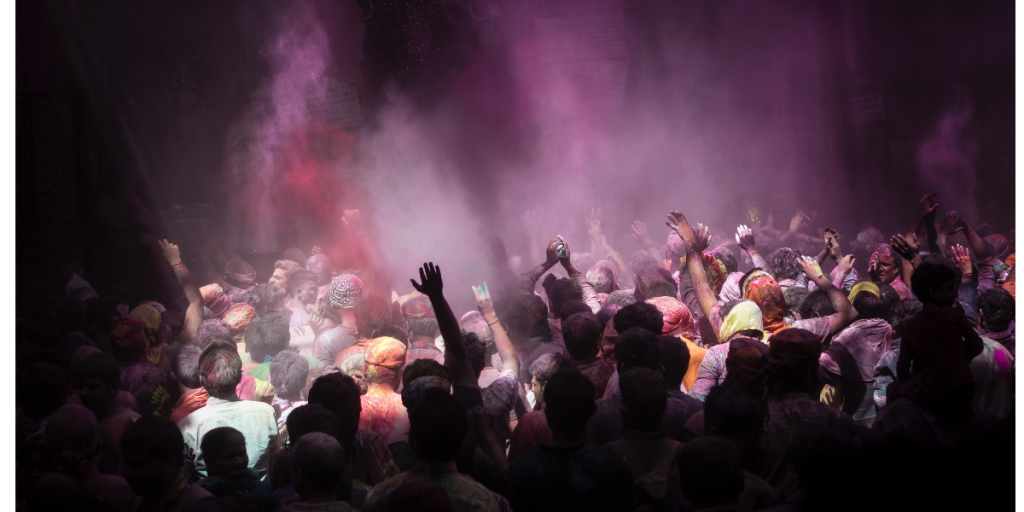 Holi is one of the most important festivals and these parties in Bangalore are going to get you grooving. Holi holds a special place in our hearts and if you are away from you home working in Bangalore, missing the vibes of Holi then worry no more because these parties won't let you miss any fun. No matter if you are one who likes to go a bit crazy and messy on Holi or the one who likes to keep their Holi more culturally rooted and quiet, there's one party in town for each one of you. If you are planning to hit the road and take quick trip around Bangalore with you loved ones to celebrate Holi then click here to find out the best weekend destinations around Bangalore!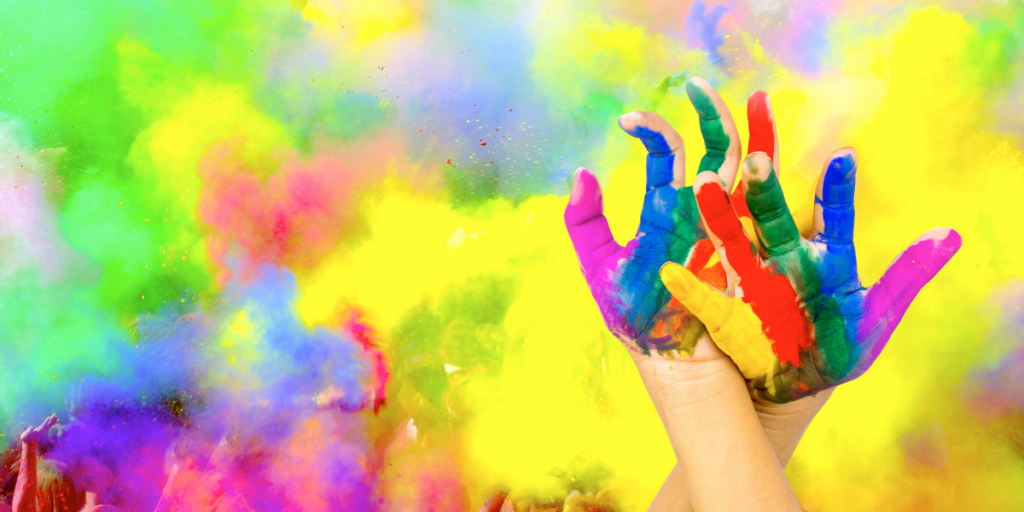 Starting mostly around noon to go up till the evening, you can even go Holi party hopping in Bangalore and it is going to be one of the most surreal experiences you have. Holi party this year may act as a memoir of what all fun we used to have during Holi before the pandemic. Now that the situation is getting under control we all want to enjoy this Holi as much as we can given that we take care of our safety and health. These parties have the best in tune DJs to mouth watering food, if you are still think then don't anymore call Deepam Taxi right now and make a plan.